Meet the Team: Peter Trimm, Senior Product Manager
Jun 28, 2022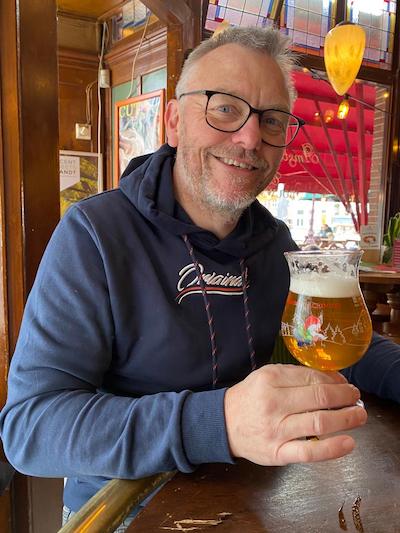 Peter Trimm is Senior Product Manager at Lavanda. He took some time out of his busy schedule (and put down his beer!) to tell us a bit about the critical role he plays in developing our core PMS platform, as well as a bit about his life outside of work.
What's your role and where does it sit in the business?
As Senior Product Manager, my role is to understand, prioritise and specify the development of the Financial Management feature set within Lavanda PMS. To do this I work shoulder-to-shoulder with our clients, which enables me to understand and gather their product requirements, as well as internally with our Customer Success and Engineering teams. In a separate capacity I also support the Sales and Marketing teams to ensure that a) our product and proposition is clearly understood, and that b) it is being positioned and deployed optimally with clients.

How does your role contribute to the overall experience and value that Lavanda offers its customers?
I have a background in Accountancy, bolstered by deep product management experience developing (as a Product Manager) various Financial Management software services. In the past, I've also had my own short-term rental business. This rather unique blend of experiences really enables me to understand, contribute and add value to our market leading product - whether that's working externally with customers, or internally with the team.

Tell us a little bit about yourself?
I started my career working for HMRC as a VAT officer (sorry!) followed by a series of roles as a Management Accountant in blue chip businesses whilst taking my professional exams. During this time I developed a number of financial reporting and modelling applications - and soon realised my interest was how the application of technology could automate and improve the work of an accountant, rather than accountancy itself. This culminated in me taking on a role leading the development (from a Product Management perspective) of a SaaS based accountancy application called Sage One (aka Sage Business Cloud).

I live in Scotland, where I can take advantage of the landscape and the proximity of lochs, the coast and mountains to walk and occasionally kayak or cycle. We live in a former school that dates back to the 1700's. It's a huge project that needs loads of work and will take years! We also keep chickens and ducks, providing us with a good supply of eggs. My wife and I have a blended family with 6 children aged 15 to 30 yrs old - hence my grey hair and love of beer!

What have been your most recent achievements at Lavanda?
I've only been with Lavanda for a couple of months, so I'm still finding my feet. There's not been a specific achievement that I can call out just yet, but I do really feel that my knowledge and experience is helping the team get to grips with a number of super complex product requirements that will soon be deployed and delivering huge value for our customers.

What do you most enjoy about working at Lavanda?
Lavanda has a very interesting product and proposition, and the team here is very passionate and knowledgeable. It's just so exciting for me to be challenged and learning new things, whilst also feeling like I'm able to personally contribute to Lavanda's exciting trajectory. I really feel that I am part of a pivotal moment for the business.